Tom's Town Distilling Company
Click an image to enlarge it
Tom's Town Distilling Co is a craft distillery located in Kansas City's Crossroads district. This is the first legal, downtown distillery in Kansas City since Prohibition. This locally-owned craft distillery produces vodka, 2 gins, and 2 bourbons. Tom's Town recently launched "Thirsty's," a refreshing line of canned cocktails featuring 4 flavors: Elderflower Lime Gin, Lemon Gin Collins, Grapefruit Clove Gin and Strawberry Mint Vodka. Visitors will enjoy distillery tours, a tasting room with small plates and an event space accommodating up to 250 people. They have also launched a speakeasy: The Kansas City Concrete Company.
The distillery draws inspiration from the country's most polarizing and corrupt political boss, Tom Pendergast, who controlled Kansas City in the 1920s and 1930s.
our spirits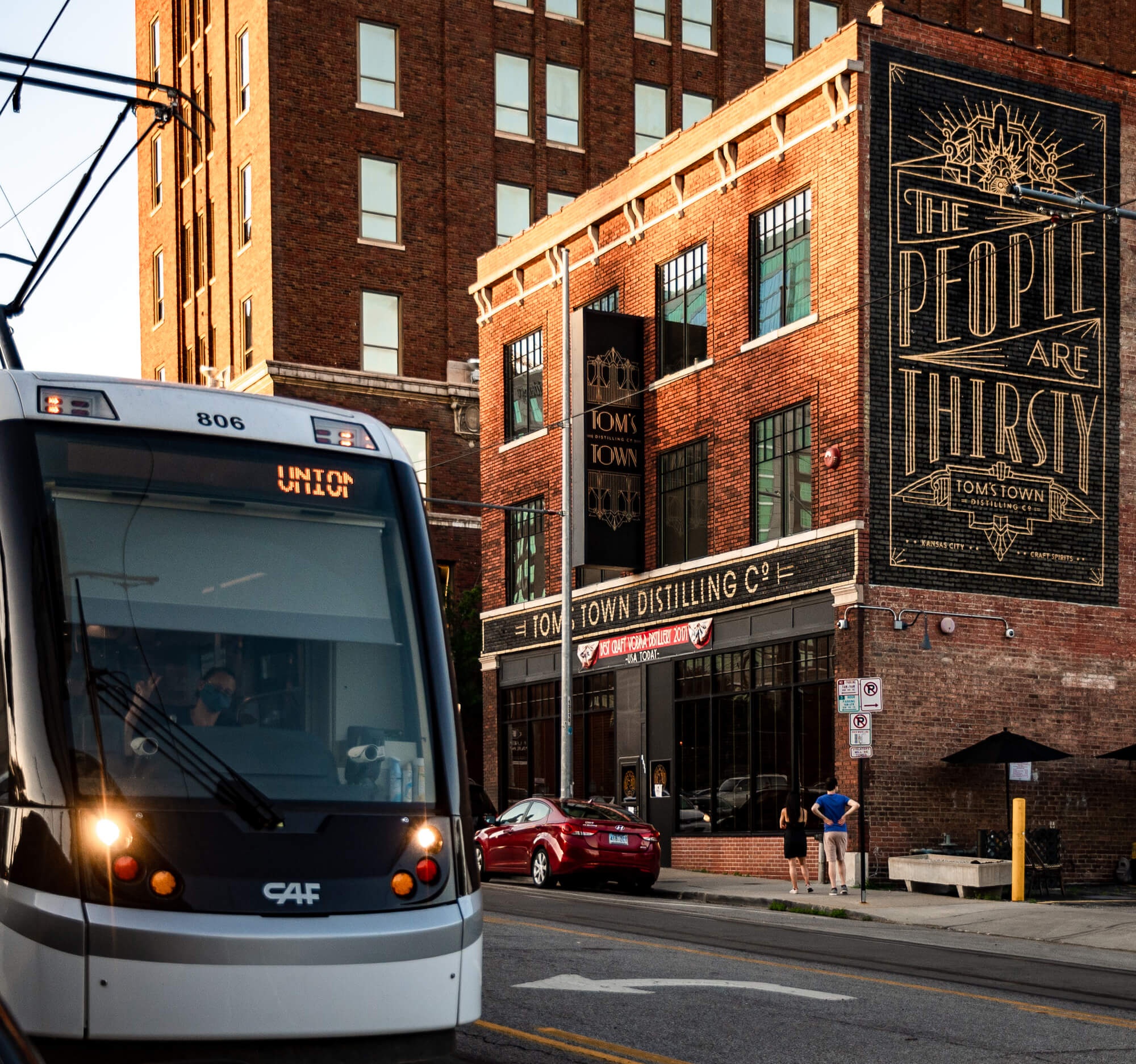 David's (Co-founder of Tom's Town) grandfather, Herman Epstein, was a bootlegger during Prohibition and a rival to Pendergast. He made Rickenbacker Malt. As a kid, I kind of assumed "malt" was like malted milk balls…and never really dug further. I also remember my grandmother having no love for Tom Pendergast…but again, never really knew why. I then learned why…Pendergast had put my bootlegging grandfather out of business…as he did all competing liquor makers that he didn't or couldn't control.
Steve's (Co-founder of Tom's Town) GG uncle was the US Attorney Maurice Milligan who brought Pendergast down on tax evasion. It hit home to us that this man, Tom Pendergast, is a character that is woven into almost every Kansas Citian who has been here for at least a couple of generations…and his story is about to be lost. And that's wrong! This man is larger than life, deeply complicated, and a Greater Great Gatsby! At that point we knew we had to tell this amazing story of Kansas City, our families and Tom Pendergast. He was no angel…but without him, we'd be living in a very different town…and there would probably be no Kansas City renaissance to celebrate because without Tom…there would never have been a Paris of the Plains.
Back when Tom Pendergast ran Kansas City, this town was on fire – much like it is today. And from an entertainment standpoint, I'm not sure it could be beat. More than 250 speakeasies were in the downtown area, allowing jazz to really take hold. It's that glamour, excitement and creativity that we recreate at Tom's Town.
Back to distilleries
sign up for
our newsletter