Southern Distilling Company
Click an image to enlarge it
Southern Distilling Company was built on the American dream and is proudly reigniting North Carolina's whiskey tradition. As one of the largest state-of-the-art distilleries in the Southeast, you'll find us in Statesville, NC at the crossroads of I-77 and I-40.
Staying true to our roots, we designed our facilities on a 20-acre campus where we welcome guests for distillery tours, bourbon tastings, crafted cocktails, and private events.
Our business is perfected through partnerships, so we offer custom product development, co-packaging, and contract production facility. We live to create products that raise a glass to the simple joys of life together.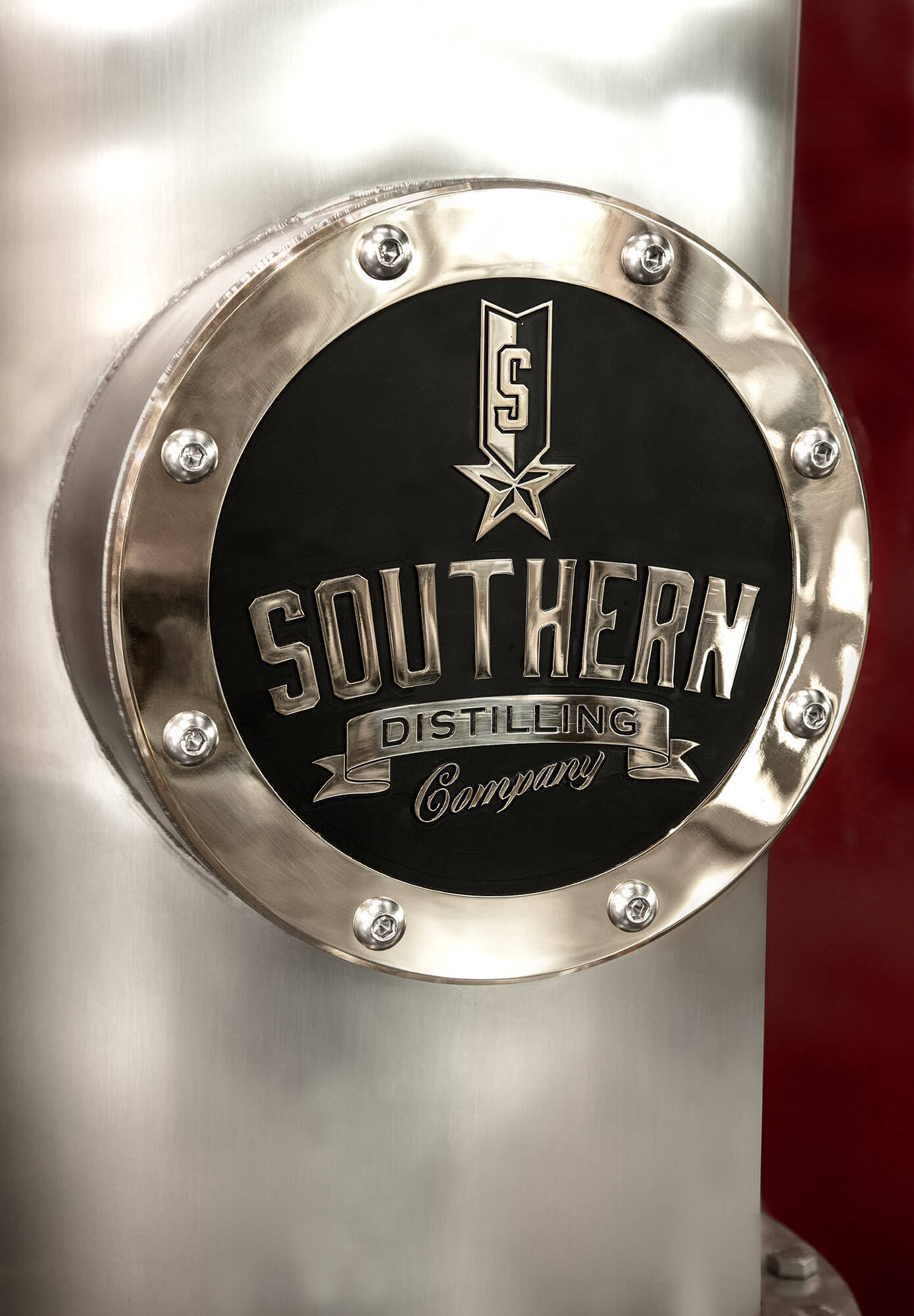 Southern Distilling Company is the artisan maker proudly reigniting North Carolina's whiskey tradition.
Founded in 2013, Southern Distilling Company was built to reignite the epic distilling tradition of Statesville, NC, and strengthen its community in the process.
Statesville's rich liquor history began in 1750 when Fergus Sloan brought what is believed to be the first pot still to the Carolinas. By the 1800s Statesville was incorporated and had 57 distillers on the tax rolls, by 1820 that number had grown to over 220! In the mid-1850s the liquor industry grew to the point that Statesville was nicknamed the "Liquor Capital of the World." This was due to the two railways that intersected east-to-west, Western North Carolina, and the north-to-south, Atlantic, Tennessee, and Ohio railways. The crossroads of the railways brought five major liquor distributors to Statesville, Lowenstein & Co, WW Cooper & Co, JC Somers, H Clarke & Sons, and PB Keys & Co. It is estimated that 450 individual distillers bought, rectified, and shipped liquor using these two railway systems. It was documented that between 1869 and 1870, 57,000 gallons of whiskey were shipped out on the Atlantic, Tennessee, and Ohio railway; this does not account for what was shipped out on the Western North Carolina railway. During the 1890s the liquor industry was booming until the Temperance movement began. By 1903 laws were starting to be put in place that began the severe restrictions on liquor within city limits, which then grew to counties by 1909 ushered in by nationwide prohibition in 1919. This brought the once-famous "Liquor Capital of the World" to a screeching halt. This resulted in the birth of NASCAR and running illegal liquor in modified cars from Statesville to Wilkes County. In 1933 the United States repealed Prohibition with the 21st Amendment. North Carolina only legalized the sale of liquor in 1937 with the establishment of the Alcohol Beverage Control system, ABC stores. Despite the change in the state of North Carolina, Statesville did not have mixed drinks for sale until 1986, and up until 2017 if you came to visit Southern Distilling Company for a tasting we could only sell you one bottle per person per year. Thankfully that is no longer the case.
Southern Distilling Company is a family-owned and -operated business with a story that is a textbook example of the American dream. Our hope is to leave a lasting legacy of celebration for North Carolina and the amazing whiskeys it produces.
Pete and Vienna Barger are passionate about people, purpose, and craft distilling, and have helped turn world-class whiskey into a thriving local industry. By putting the legacy of Statesville, NC distilling back into the hands of its people, Southern Distilling Company has stayed connected to the land, earned recognition, changed laws, and proved the relentless power of living the American dream.
Pete Barger has spent the last nine years lobbying for Craft Producers at both the federal and state levels. He has supported a multi-year effort that resulted in a permanent reduction of FET and worked closely with DISCUS, ACSA, and the FDA to win Craft Producers the right to legally produce and sell sanitizer (without FET penalty) during the early stages of COVID. At home in North Carolina, Pete served as the President of the Distillers Association of North Carolina, DANC, and successfully placed the first Executive Director. In doing so, it has moved the Association to be one of the most effective craft advocacy and lobbying organizations in the country. Throughout Pete's time with DANC, he strived to bring all stakeholders together and fostered real dialogue resulting in the drafting of new laws that not only benefit distilleries but helped build alliances across the three-tier system. This ultimately resulted in a more friendly business environment for our industry and consumers in North Carolina.
Southern Distilling Company's products are made from local grains grown right in our backyard. We know every grower. Our close partnership ensures quality and shared prosperity. We benefit from Pete's background as a mechanical engineer, along with an artfully skilled and experienced production team. Our innovative distilling process allows us for extensive refinement followed by remarkable consistency. Once the desired flavor profile is selected, we can reproduce it at scale, barrel after barrel.
Back to distilleries
sign up for
our newsletter