Caledonia Spirits, based in Montpelier, Vermont, is the maker of Barr Hill Gin, America's Most Awarded Gin. Founded by a Vermont beekeeper, the distillery uses local honey as the key contributor of botanical depth in all its spirits. Caledonia Spirits produces Barr Hill Gin, barrel-aged Barr Hill Reserve Tom Cat Gin, and Barr Hill Vodka — at its state-of-the-art, sustainable distillery in Montpelier.
Barr Hill's Distillery, located on the aptly named "Gin Lane" in Montpelier, Vermont, is dedicated to crafting world class spirits that build the connection between agriculture and cocktail culture. The distillery's Landcrafted approach honors the bounty of the land, the labor of farmers and the pivotal role of bees in agriculture.
our spirits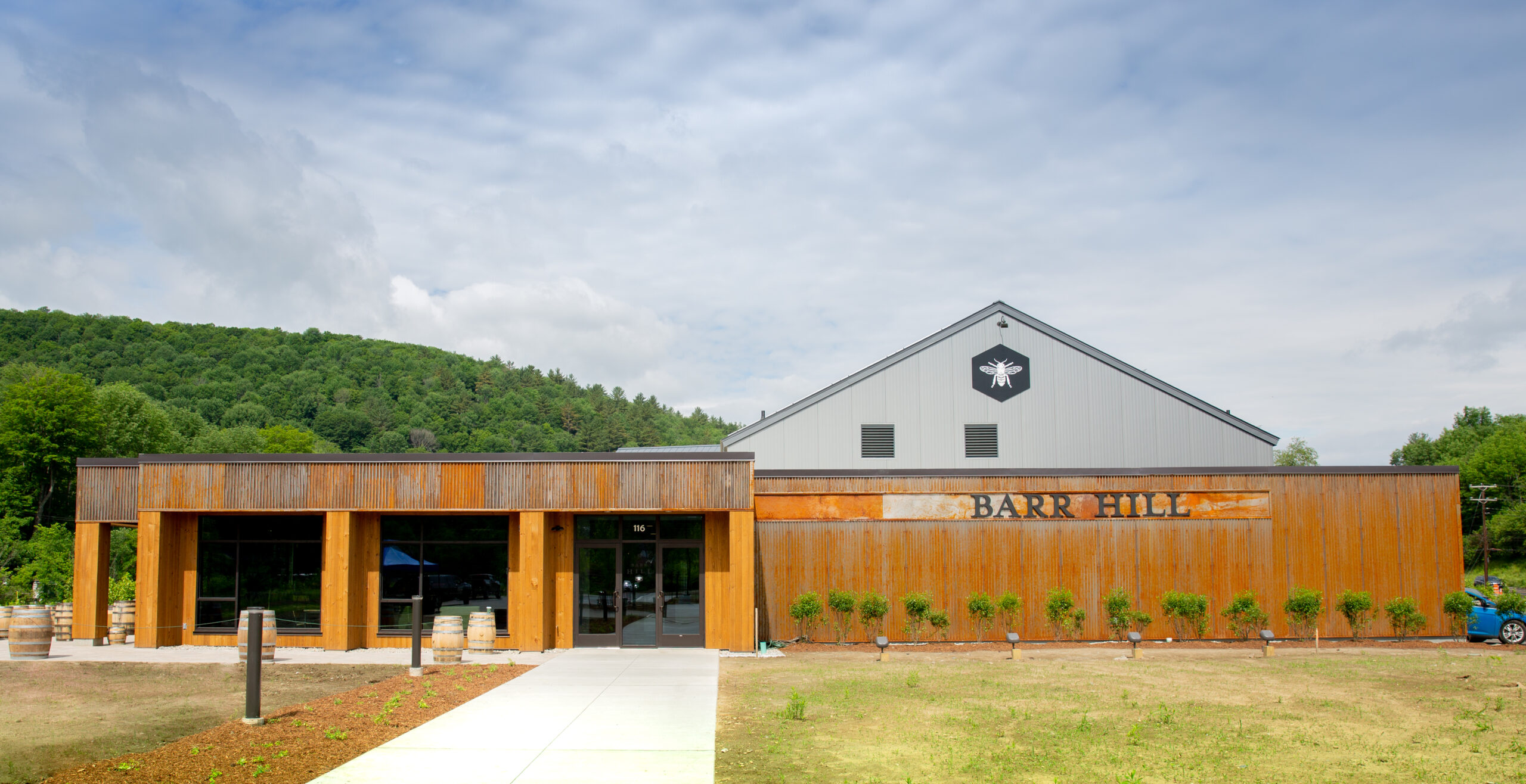 A stone's throw from downtown Montpelier, Vermont's capital city, Caledonia Spirits is the distiller of Barr Hill Gin, America's most awarded gin. Barr Hill Gin (named for the Barr Hill nature preserve in Greensboro) uses raw honey sourced from within a 250-mile radius of the distillery to create a uniquely balanced and botanically complex gin.
This connection to the land goes hand in hand with the responsibility to respect it – evident in every aspect of the distillery and our spirits.
The Barr Hill distillery is built on a former site of Vermont's historic granite industry, rendered unusable, that underwent a thorough environmental remediation. The distillery's rooftop solar array generated 79,186 kilowatt-hours in 2021, and a water recovery system has reduced the distillery's needs by 83%. A thermal banking system repurposes heat from the distillation process, powering a radiant heating system in our brand new back patio. Organic waste from our distillery and cocktail bar is also repurposed as biofuel and compost, sent to a local biodigester and transformed into electricity for the community.
Sustainability was considered throughout the building: natural light is supplemented by energy efficient LED lighting, along with pollinator friendly landscaping, high-performance, insulated metal siding, low-flow plumbing and low-impact stormwater treatment processes. Situated along the Montpelier bike path, green visits and commutes are encouraged.
We use the term "Landcrafted" to describe Barr Hill spirits and the bar program – it's the northstar for our mission to reconnect agriculture to cocktail culture. Our guests experience the wisdom, power, and beauty of the natural landscape through the hard work of beekeepers and farmers that makes its way into every cocktail and spirit we make.
We work closely with local farmers – visiting and learning from them; exploring new ingredients, flavors, and possibilities. Their passion and commitment to the land inspires the creativity behind the bar, in the distillery and in the kitchen.
Our distillery hosts events, offers tours, features a world class cocktail bar with small plate menu and has a distillery retail shop with unique apparel, spirits and barware only offered at Gin Lane.
Back to distilleries
sign up for
our newsletter