One Location, Two Distinct Experiences
To get the full Swilled Dog experience, visit us at our distillery and cidery in Upper Tract, WV. Every craft beverage we produce, from whiskey to hard cider, is infused with the vibe of this place. You'll feel it when you step on the property and take in the mountain views.
Check out our intimate Whiskey Room where you can enjoy a tasting of our whiskeys and bourbons that have received international awards, including a double gold medal from the San Francisco World Spirits Competition. Savor each sip while you enjoy the expansive views of the surrounding fields of corn that soon will be distilled into Swilled Dog's next batch of award-winning spirits.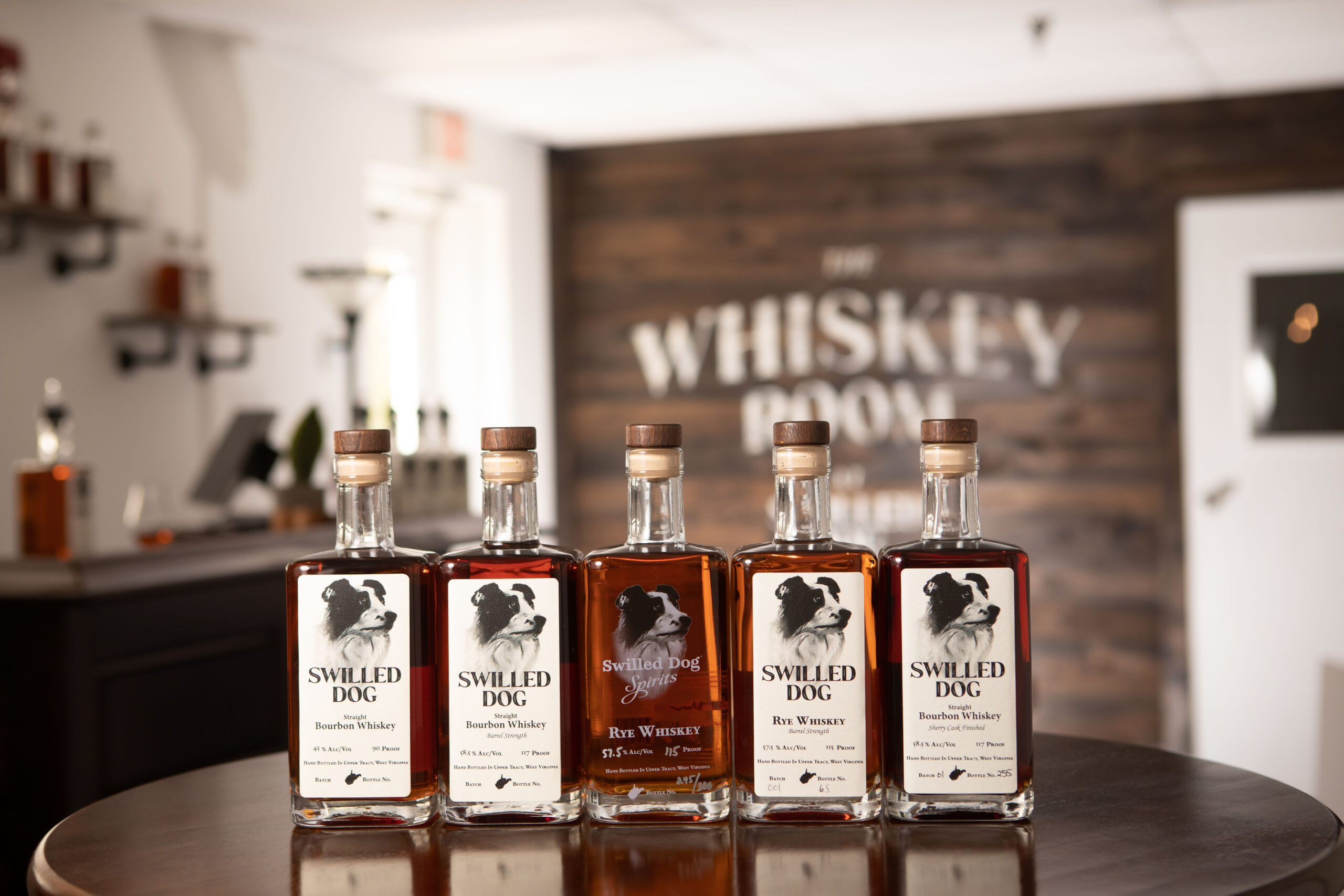 From the orchard to the furrow, Swilled Dog delivers award-winning hard ciders and small-batch bourbons and whiskeys crafted and distilled in the mountains of West Virginia. We may be rooted in the rugged hills of Appalachia, but, like you, we have wandering hearts. With that in mind, our canned ciders and ready-to-drink cocktails are packaged for every adventure—from the mountains to the beach. And, after a full day on the trail or in the surf, a dram of one of our premium spirits or a cocktail made from our infusions is the perfect closer.
Swilled Dog is proud to be a majority female- and family-owned company earning credibility in the male-dominated beverage industry. We are proud, also, to have brought together a primarily female powerhouse leadership team. Most of us are moms and dads, raising little ones, and we share an uncommon devotion to our four-legged best friends. One, in particular, Lucy Pickles our Border Collie brand sake.
Since our founding in 2016, we've built a company culture based on enjoying the outdoors, bringing people together, and living life to the fullest. That's why we say Swilled Dog is best served with adventure. But, we don't just mean paddle boarding into the sunset. We mean working moms coming in hot on a Friday at five. We mean dads with squealing kids on their shoulders. Life's an adventure; choose yours. And pour yourself some Swilled Dog.
Sure, we're a playful bunch, but we are dead serious about three things: quality, sustainability, and community.
QUALITY
We are committed to producing the finest West Virginia ciders and spirits. In short order, we've made a name for ourselves on the international stage garnering awards including Double Gold and Gold Medals from the San Francisco World Spirits Competition, a Gold Medal from the World Whiskies Awards and highly recommended ratings and reviews from Wine Enthusiast Magazine, American Whiskey Magazine, the Ultimate Spirits Competition and more.
SUSTAINABILITY
We partner with local farmers who grow the non-GMO corn in our whiskeys and bourbons and raise cider-specific apples in our own orchard. Our emphasis on hyper-local practices and respect for the terroir is reflected in the flavor profiles of our craft spirits and ciders.
COMMUNITY
We believe in giving back. A portion of our proceeds are donated to local charities and organizations. We also volunteer with local animal shelters and other fundraising events in our area.
We introduced Lucy's Tap to broaden the reach of our charitable giving. One dollar of every pour from Lucy's Tap is donated to a new non-profit selected each quarter.
Back to distilleries
sign up for
our newsletter