KOVAL Distillery crafts a line of whiskey, gin, and specialty spirits using unique organic grains and signature "heart cut" techniques with only the absolute best quality distillate. What began as Chicago's first distillery since the mid-1800s has grown into one of the largest fully independent and woman-owned craft distilleries in the US, awarded internationally for its bright flavors and innovative design.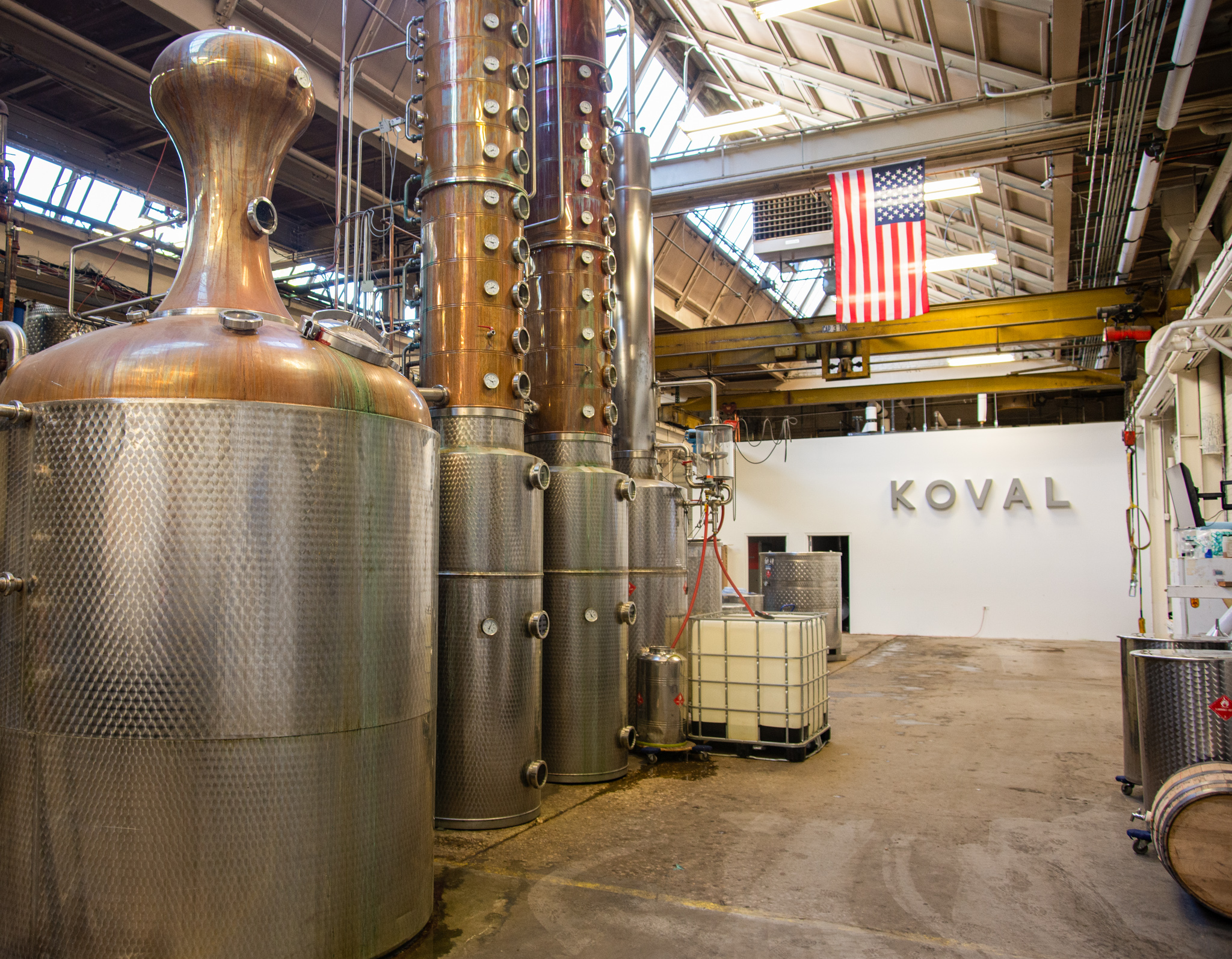 Founded by husband-and-wife team Sonat and Robert Birnecker, KOVAL began as the first distillery to open in Chicago since the mid-1800s. Their goal was to marry centuries of tradition from Robert's Austrian distilling heritage with state-of-the-art modern technologies – all with the aim of bringing heightened levels of consistency and creativity to the world of spirits. As leaders of the American craft spirits movement, KOVAL has made a name for itself as a creative force, in part through its unique mash bills, but also due to its "heart cut" approach to distilling, which allows for the best expression of each spirit.
Artistry and innovation are woven into KOVAL's entire process. Its spirits are fermented in sealed, controlled fermentation tanks and distilled on a 5000L Kothe hybrid potstill. All of KOVAL's equipment is outfitted with the latest technology to maintain coherence and quality. So, while KOVAL's whiskeys are all single-barrel, each barrel is made with scientifically established consistency. This allows for the flavor profiles of the thoughtfully-sourced grains to represent the only difference within KOVAL's whiskey portfolio. To further highlight the clarity and distinction of KOVAL's single expression grain whiskeys, such as millet and rye, KOVAL uses un-malted grains. Fermentation is started with enzymes to maintain better control and conversion of the grains' sugar into alcohol, while also preserving the purity of the grains' individual properties. This results in a universally approachable, smooth and bright line of spirits.
The KOVAL gin line is also immediately recognizable for its innovative beauty, both inside and out. Made with a unique variety of woodland spices, KOVAL's signature 13 botanicals bring clean and inviting citrus-floral notes – nuanced by emerald grasses, golden citrus, and white pepper – to both classic and contemporary cocktails.
KOVAL's spirits have been awarded over 100 times internationally for delighting in both taste and design. It has grown into one of the largest independent and woman-owned craft distilleries in all of the US, with presence throughout Europe, Asia, North America, and Australia. Through their consulting arm, they have also helped set up 190 distilleries around the world, and have educated over 3,500 people on the art and science of distilling.
Back to distilleries
sign up for
our newsletter