Founded on a passion for Butte and for great spirits, Headframe Spirits is proud to produce distilled spirits in uptown Butte. Our tasting room is open 10am-8pm Monday thru Sunday. Swing in to samples some spirits and to immerse yourself in Butte's history and culture. Our knowledgable tasting room staff will happily make you a cocktail or two and share some of the stories from Butte's colorful past. We're family friendly, with a fun selection of non-alcoholic beverages to choose from. While we don't serve food in the tasting room, don't be shy about grabbing lunch or dinner from one of our local restaurants and bringing it in! See you soon!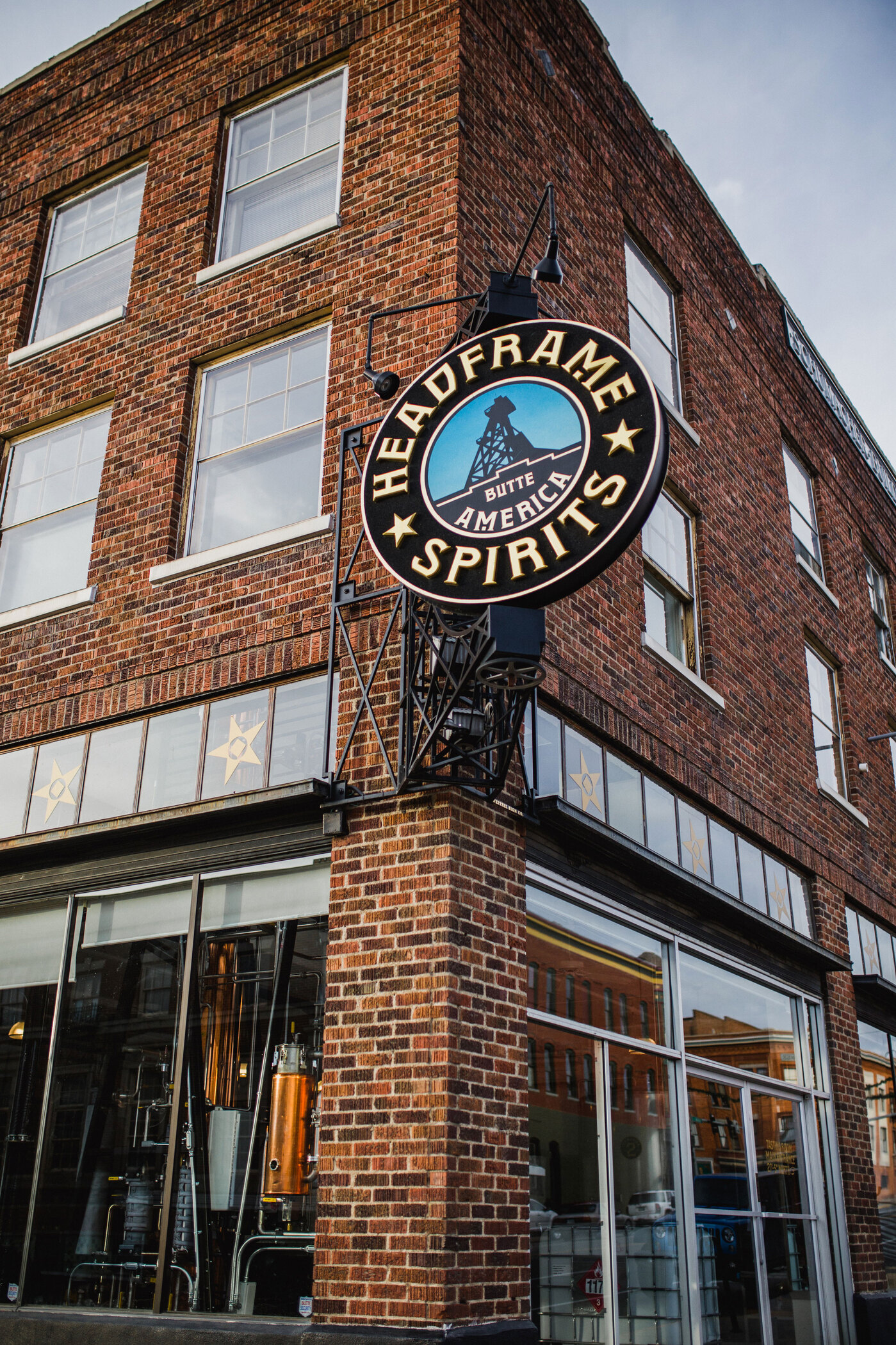 It all starts here, because here is where our heart is. Staying true to our Community is more than a priority—it's in our blood. From the dedicated workforce we employ, to the top-quality products we share with the world, we're constantly digging deeper to provide the best in the business. As our brand expands and evolves, we'll strive to remain true to our roots and the community we serve. You'll find that in all of our spirits, where every one is named after the mines or Headframes that lowered the miners underground here, right below our feet. By working with Community members like the World Museum of Mining and Butte Archives, we are able to continue telling the story of those who helped shaped Butte and the rest of the United States.
When co-owners John and Courtney McKee first opened, they knew that the cornerstone to every Tasting Room is the bar. Memories are made and cherished here. That's why, when they went to the Museum of Mining and found the bar that once belonged to the Rocky Mountain Cafe they knew they could breath life back into it. The Rocky Mountain Cafe was owned by Teddy Traparish in an Italian neighborhood known as Meaderville. While Meaderville no longer exists here in Butte, its culture and spirit continues to live on through the people who keep it alive. And we are humbled to be one of them.
In 2016, Headframe became a certified B-Corp, meaning our goal is to do Good. Something we put into action every day. From compostable cocktail accessories to water conservation in our distillation process, we believe that sustainable work is critical to the future of our planet. We build our equipment with sustainability at the forefront. We know that small businesses play an integral role in sustainability, so we take the initiative making sure the world will be a little bit better for Headframe having been in it.
Cheers!
Team Headframe
Back to distilleries
sign up for
our newsletter