Cathedral Ledge Distillery
Cathedral Ledge Distillery is the only certified organic distillery in the state of New Hampshire. Cathedral Ledge is a premium craft distillery located in North Conway, NH. This family-run business which opened its doors to the public on December 5, 2020, is housed in a traditional New England timber frame barn. Using a traditional batch method of creating high quality spirits in a copper pot still, and NH's tallest vodka column, all spirits are hand crafted from grain to glass, and are gluten-free. The distillery has won gold medals for its Aquavit, Vodka, Gin, and Barrel-Rested Gin. Cathedral Ledge Distillery's Organic Gin has also earned them the distinction of "New Hampshire Gin Distillery of the Year."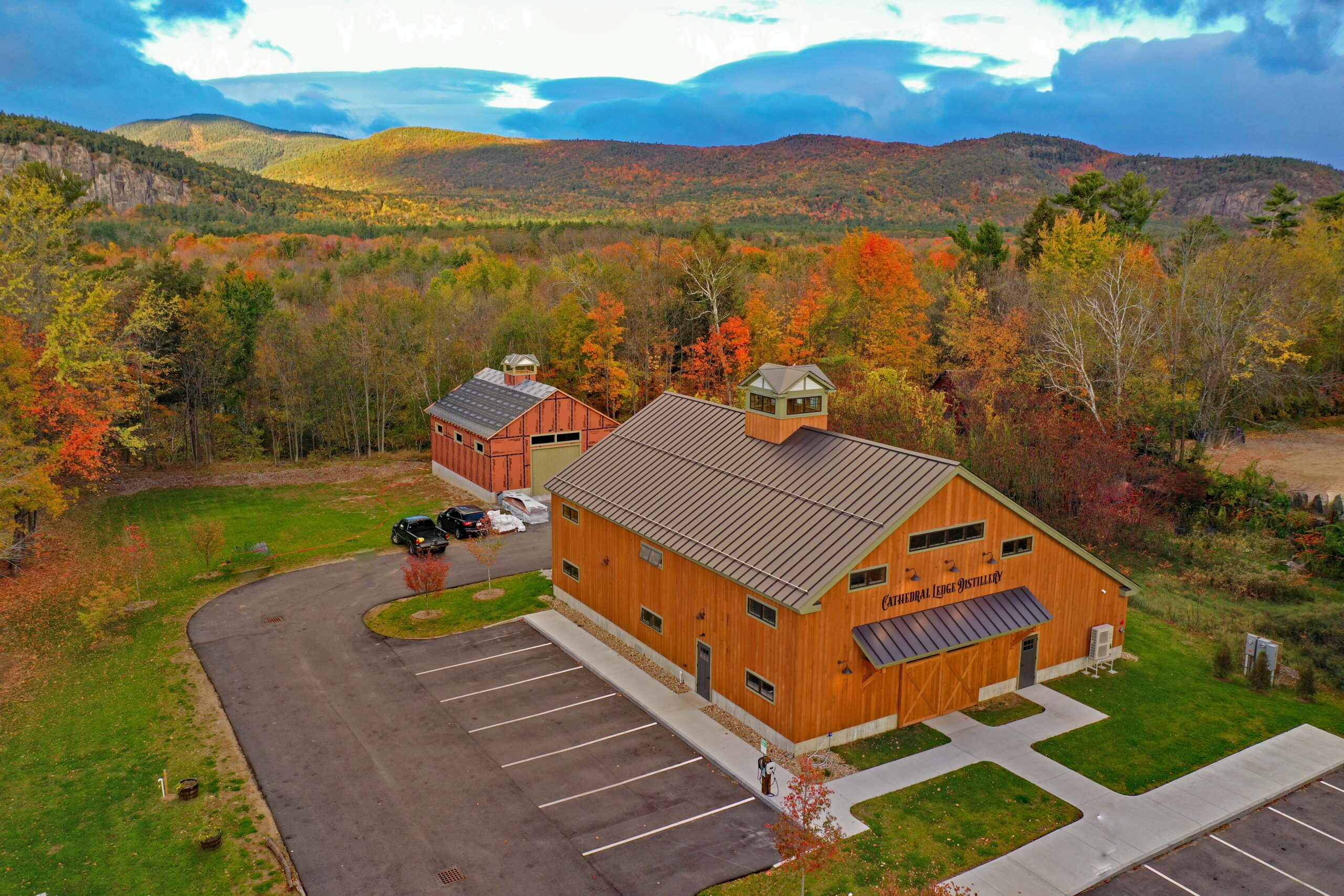 There were many different sources of motivation that led us to start Cathedral Ledge Distillery, but creating an opportunity to reconnect with our agrarian heritage was a primary one. While there are faster and more economical ways to erect a building, we hired a local father-son led team of master craftsmen to hand cut and stand a traditional New England timber frame barn to house our distillery. We take great pleasure in working with farmers to source our grains and other ingredients, as well as responsibly working with them to dispose of our spent grains.
Our distillery process is completely done on site, starting with milling all of our grains. Our location on a bank above the Saco River, with views of the White Mountains and Cathedral Ledge was chosen largely for its excellent, pristine water. The tasting room and production area are separated by a glass wall, so guests can see the entire process as the spirits are made and packaged. For those seeking to learn more about the process of making spirits, we offer tours.
There are currently 13 different spirits available to try in the tasting room. While our gins and vodkas have earned early acclaim, we are patiently laying down barrels of bourbon, rye whiskey and wheated bourbon. Yes, guests can try those too.
OUR SPIRITS
Our spirits are handcrafted, from grain-to-glass, in our traditional timber frame barn in North Conway, NH, certified organic by the USDA, and Gluten-Free.
Organic Vodka
We make a traditional grain based vodka using NH's tallest vodka column. We reduce the proof to bottle strength by adding our pristine local water, which we do not filter. No sweeteners or "mouthfeel" additives are added to our vodka.
Organic New-Make American Whiskey
Our New-Make is whiskey that has been barrel rested for just one day. The grain bill is 69% corn, 19% wheat, 12% malted barley. It allows you to experience the grain bill with little barrel influence.
Organic Wheated Bourbon
This limited release is only available in our tasting room. The grain bill is 69% corn, 19% wheat, 12% malted barley. This bourbon has aged for over one year in a new, #3 charred, White American Oak barrel.
Organic Rye Whiskey
Our Rye Whiskey's grain bill consists of 54% Danko rye, 34% corn, and 12% malted barley. The spirit has been aged in new, #3 charred, White American Oak barrels.
Organic Genever
Our interpretation of this traditional Dutch spirit is made by distilling a malted barley based spirit three times in our traditional pot still. During the third distillation a selection of ten botanicals, led by juniper, are added to give the spirit its unique character.
Organic Gin
For our gin, we build upon the London Dry tradition by starting with a traditional backbone of juniper, coriander, orange peel and lemon peel. This American style gin, however, is given its defining character with a significant charge of green cardamom pods.
Organic Barrel-Rested Gin
This gin also respects the London Dry tradition, but is specifically crafted to complement the unique flavours available in our recently emptied rye whiskey barrels. Orange peel laced with vanilla and hints of rye are present on the nose. Hawthorn berry comes through in the mid-palate, balanced nicely with the angelica root, fennel and other botanicals. The Rye re-emerges on the long smooth finish.
Organic Infused Vodkas
All of our infused vodkas are made by immersing the title botanicals in our Organic Vodka. Nothing else is added.
Blueberry – made with wild Maine blueberries
Fig – made from black mission and Turkish figs
Ginger – the perfect start to your favorite mule cocktail
Aquavit – our take on the traditional Scandinavian spirit, including eight botanicals, providing a balance of warmth, baking spices, and citrus
Horseradish – crafted from fresh horseradish, this vodka will take your favorite Bloody Mary to a new level
Organic Maple Liqueur
The sweetest product we offer, crafted from our Organic Vodka and organic NH produced maple syrup.
Back to distilleries
sign up for
our newsletter