Walton's distillery is a small batch distillery just outside Jacksonville, NC. We are a locally owned and operated facility specializing in the distillation and production of moonshine, whiskey, and bourbon spirits. We use a family recipe that's been passed down through the generations for our moonshine here. Our distillery takes pride in supporting local and utilizes locally sourced grains for all our spirits as well as US made bottles and labels. We are open Monday – Saturday and hold regular tours and tastings every 30 minutes. First tour starts at 10:00 and the last tour starts at 4:00. We'd love to have everyone by to share our tradition!
our spirits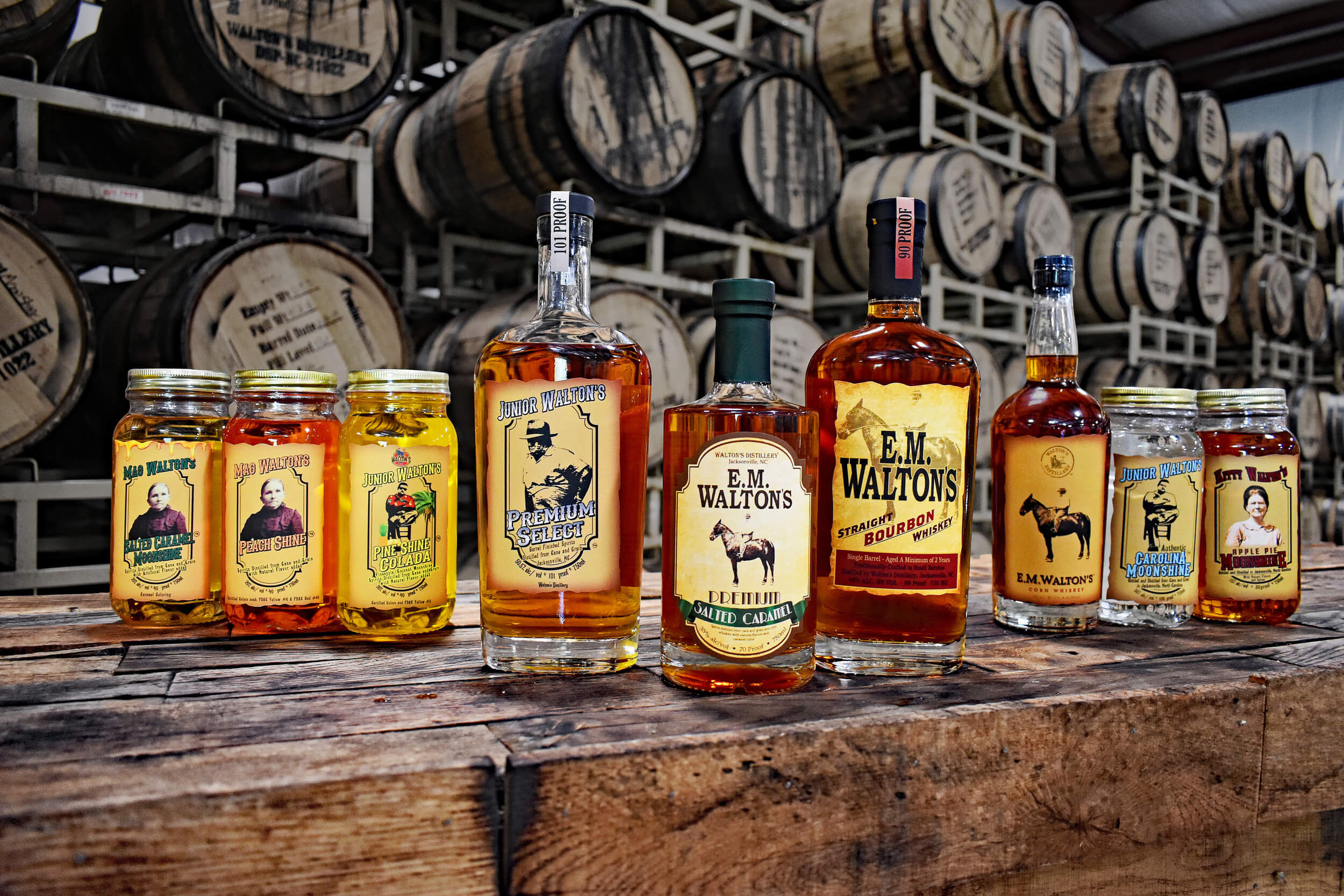 Though a native of Jacksonville, North Carolina, Don Walton, Jr. had the opportunity to live in Kentucky for several years. During that time, he reviewed records of numerous pre-prohibition distilleries and visited and toured distilleries as a hobby. Don's interest piqued in the industry. Upon returning to his hometown, Jacksonville, NC, in 1989, he immediately began talking to the appropriate state and federal agencies about licensure. Sidetracked numerous times by personal and financial obstacles, Don revisited the projects in 2005. Walton's Distillery, Inc. was formed and the foundation was laid for eventually opening a craft distillery. Over the following years he worked on recipes and developing a business plan for the company.
The site was located just beyond the bank of Black Creek, on a site where numerous illegal stills had previously operated. Construction of the building began in June, 2013 and as of today is fully operational.
The goal is to merge the techniques utilized by some of the more traditional distilleries in Kentucky, together with the age-old practices of several generations of local artisans, and ramp things up a bit to enable production to manufacture a satisfying spirit and keep shelves stocked. We are a small batch distillery.
Our first product was "E.M. Walton's Corn WhiskeyTM." It is named after Don's great-grandfather. It is made with 100% corn and flash-aged with toasted Appalachian oak chips for at least 2 months to smooth the spirit and impart the caramel color and vanilla tones. Our first pallet was delivered to the Raleigh ABC warehouse in April, 2015.
After the whiskey production was fully underway Don was approached by Norwood Rochelle, a cousin, about the prospect of making moonshine. Norwood had made moonshine illegally for approximately 50 years in the woods of Onslow and surrounding counties. He had been affiliated with Percy Flowers and several other prominent moonshiners of the day and was very adept at his craft. In addition, Norwood was a skilled musician, and known across the State as an accomplished bluegrass musician. Cousin Norwood shared his knowledge of making moonshine with us. We crafted a moonshine still out of scrap stainless steel. Norwood constructed a condenser out of sheet copper and our production of moonshine began.
Over the next months Norwood shared his secrets and recipe of making moonshine. We continue to make moonshine in exactly the same manner as he had made it over the past 50 years. Our moonshine is called "Junior Walton's Authentic Carolina MoonshineTM." It is named after Don's grandfather. Norwood's photograph is on the back label of each bottle of moonshine that we sell.
Back to distilleries
sign up for
our newsletter