Established July 2020, Preez Distillery opened its doors to the public with some unique offerings. We specialize in Vodkas, flavored vodkas, and liqueurs/cordials. With only two years since our doors opened, Preez Distillery have developed 4 exceptional vodkas including a bold vodka, traditional vodka, vanilla vodka, and blueberry vodka. Our collection of cordials/liqueurs include Somerset (apricot liqueur), Sanguine (strawberry liqueur), and Ichabod (pumpkin pie liqueur). All our products are made, bottled, labeled, and sealed in house. No outsourcing and no third parties involved compromising our quality. At Preez distillery we believe in the craft and we live for the craft!
part of trail
Florida Distillery Trail
our spirits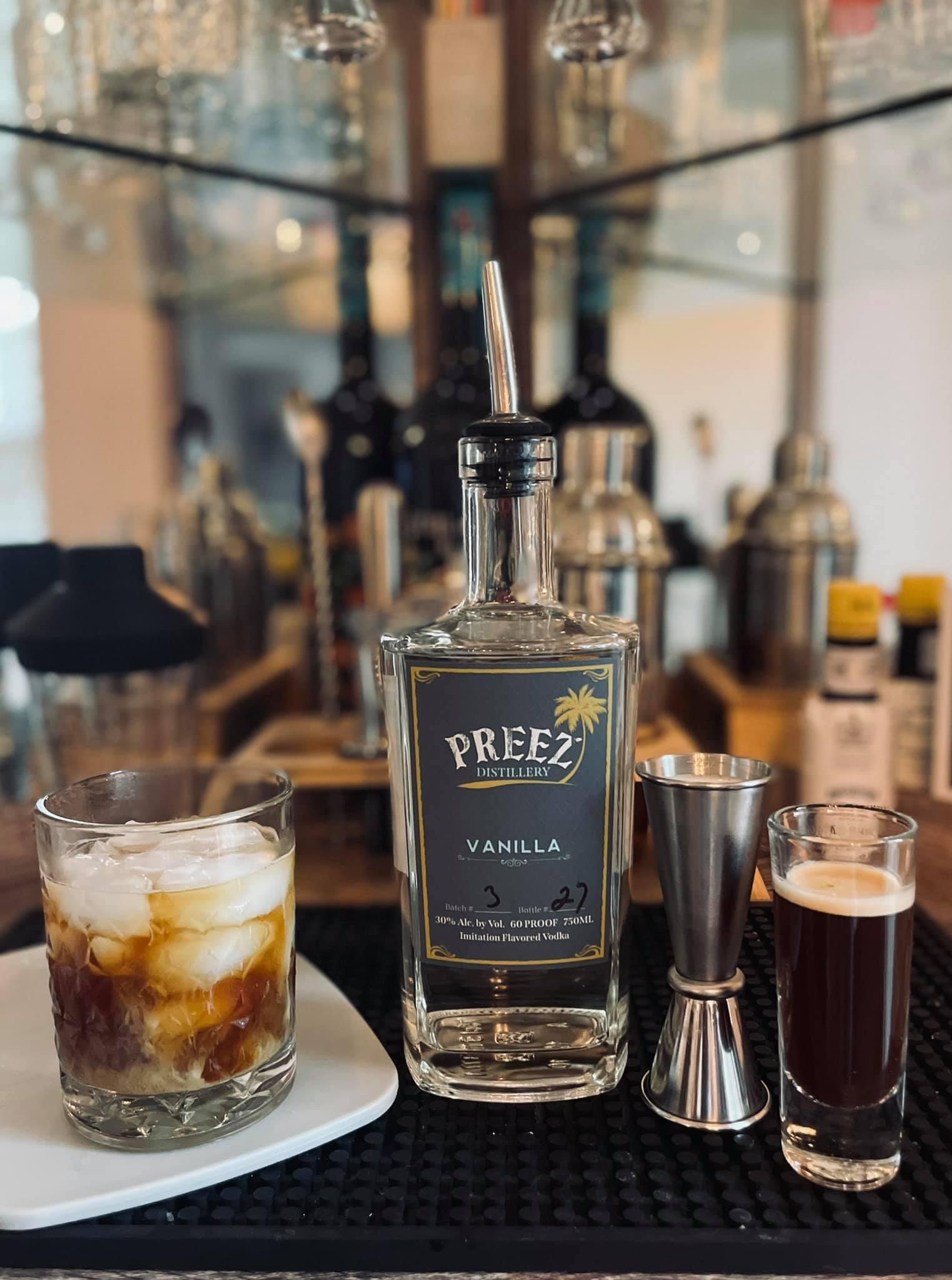 Preez Distillery is the first and only vodka distillery established in Largo, FL. It's veteran owned and operated with non of the military feel upon entry. This crazy idea of making spirits began in 2015, in Fairbanks, Alaska. During the owner's last duty station at Fort Wainwright long cold nights were in the horizon and the consolation price was vodka. With most outdoor activities being in the cold bars and friend gatherings were almost a daily occurrence, and drinking was involved. After a noticiable high spending of over $600 in a month, the owner took on the task to save money by making some sort of spirits. The research began, distillery visits were very common with lots of questions, reading, and comparing notes and judging spirits. By the end of 2015 the first set of basic equipment and ingredients were acquired. From here on it was trial and failure. Batch 1 was started in hopes to have some spirits by New Year's Eve; failed. #2 was started immediately after and it also failed. More research happened to account for the errors that led to batch failure. Batch 3 also failed during fermentation. Batch 4, this one finally fermented properly, however, it failed during distillation. Batch 5 made it through distillation but it was terrible. Starting at batch 6, there were some decent spirits that everyone was enjoying did the sake of not having to spend money at the store. The batches progressively got better. Implementing different techniques at different stages of the process allowed for a better product each time. On July 2020 a self-taught distiller was born as Preez distillery.
Our vodkas are grain free, smooth, and locally sourced. The vanilla and the blueberry vodkas will compliment and enhance your preferred cocktail.
Our liqueurs are also grain free, made with real ingredients to get the true flavors and notes. No chemicals added, all natural.
At our distillery we keep a non commercial atmosphere where you can enjoy our free tastings and tours. At the entrance we built a service wall to honor those in the military service for their sacrifice. On this wall, members of the armed forces both past and present, are welcome to place any memorabilia of their choosing such as unit patches, stickers, photos, etc… Service members and first responders receive a 15% off their total purchase.
Back to distilleries
sign up for
our newsletter