Where Maker's® is made. We're still doing things just like we did them in 1953. From the old letter press, to the way we hand-rotate every barrel and hand-dip every bottle of Maker's Mark. And yet it seems there's always something new and exciting going on at Star Hill℠ – even beyond our bourbon distillery tours. Join us at Maker's Mark Distillery on Star Hill Farm℠ for tasting experiences, handcrafted cocktails, and enjoying our beautiful grounds. You can even dip your own bottle and purchase exclusive bourbon offerings in our distillery gift shop.
We hope to see you soon.
part of trail
Kentucky Bourbon Trail®
our spirits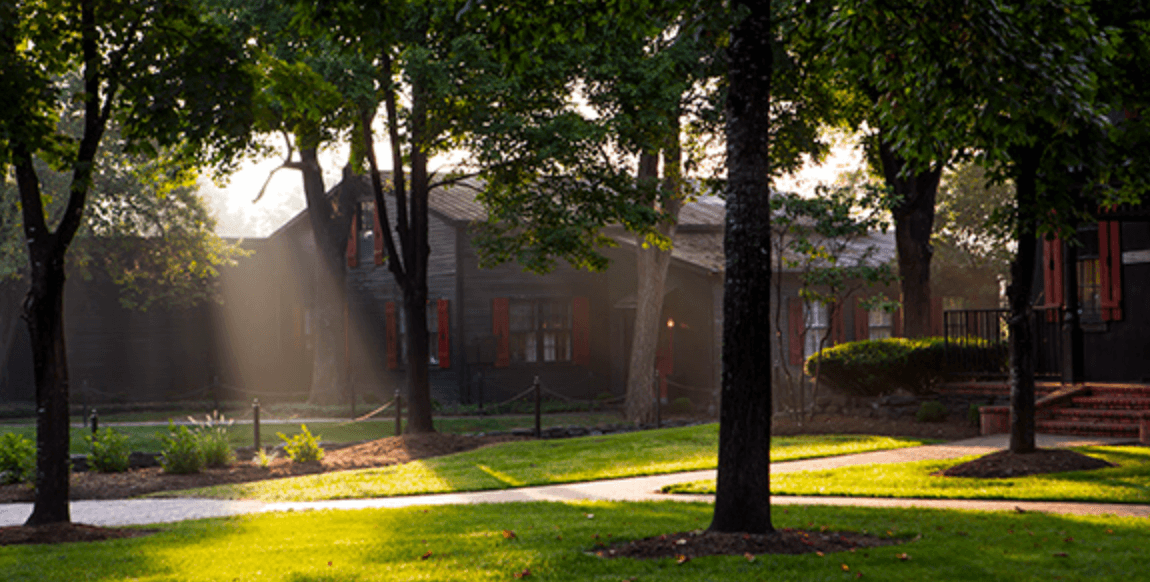 Star Hill Farm
Our National Historic Landmark distillery is on our property, Star Hill Farm, which covers more than 1,000 acres. This includes North America's first natural water sanctuary, started as part of our commitment to sustainability. You'll find that the same attention to detail that goes into making our bourbon has gone into preserving this place.
From the whisky in your glass to the entrée on your plate, flavor is at the heart of everything we do here on Star Hill Farm.
We like to say that Maker's Mark® is "nature, distilled," and we take our role seriously as inheritors and stewards of this gorgeous slice of central Kentucky. To the greatest extent possible, everything that goes into our bourbon, our cocktails and our menu items is locally sourced and sustainably produced.
We're constantly trying new ways of farming and pushing flavor boundaries while at the same time relying on tried-and-true methods of working the land. Because sometimes the old ways are still the best ways.
It's all consistent with our founder's taste vision, and our passion is to fulfill that vision for generations to come.
Bourbon Made the B Corp™ way
Making great bourbon isn't just about the bourbon itself. It's about all the little things it takes to make that bourbon. That belief and all our extra efforts have proudly led us to be the largest distillery in the world – and the first in Bourbon Country™ – to become a B Corp™.
What does that look like? Well, when you visit our distillery, you'll likely see some of it in action. It's the electric vehicles we use to get around Star Hill Farm and the solar panels that produce enough energy to power our entire warehouse complex. It's our crushed glass trails as a part of our zero-landfill initiative and our use of local ingredients. And it's also our decades-long record of investment in community and the hospitality industry.
Bill and Margie Samuels lived by the philosophy of "Make your mark, leave no trace." Years later, we're still doing both.
Our Bourbon
Whether you're after a smooth, full-flavored bourbon to sip neat or something to use in your favorite cocktail, any of our Maker's Mark® expressions are a great place to start. Our core family of expressions include:
Maker's Mark®
Maker's Mark® Cask Strength
Maker's Mark® 46
Maker's Mark® 101
Heritage
When the Prohibition ended, the T.W. Samuels distillery resumed production. And after serving in the Navy in World War II, sixth-generation distiller Bill Samuels, Sr., joined the family firm as General Manager. Problem was, Bill didn't much care for the whisky his family had been making all those years. Like most bourbons of the day, it was hot and harsh and could blow your ears off.
So, in 1943, Bill got out of his old family business and in 1953 he started a new one – with nothing but an idea for a new kind of bourbon and how it should taste. The adventures of a lifetime had begun.
Bill Samuels, Sr., knew he didn't want to make a rough-and-ready bourbon with a harsh bite – there were already plenty of those out there. He wanted a smooth, easy-to-drink whisky. It was a pretty revolutionary idea for the times and led to a pretty revolutionary bourbon that stood out from the crowd.
His cofounder and wife, Margie, wanted to ensure the bottle did the exact same thing on the shelves, so she got to work on the design. Inspired by her collection of 19th-century cognac bottles, she created the shape of the bottle, the look of the label and even named the bourbon.
They discovered the taste Bill was after in a pretty unusual way. Logistically, they didn't have six years to wait around to discover what the whisky would taste like when it finally came out of the barrel. Bill was a risk-taker, but he wasn't crazy. And since they were doing this on their own dime, they didn't have time or money to waste.
Margie decided the quickest way to find the taste they were after was to experiment with a variety of mash bills in the form of bread. Their baking research led to the discovery that loaves made with soft red winter wheat as the flavor grain were milder and gentler on the palate than those made with rye.
Mash bill in hand, they bought a boarded-up distillery in Loretto Ky., and began making the bourbon Bill had been waiting all his life to drink and share with his friends.
Finally, in 1958, the first bottle of Maker's Mark® was dipped in red wax, and the brand – as well as a whole new category of bourbon – was born. Margie hand-dipped those first bottles in her kitchen using a home fryer to melt the wax. While her fried chicken was never quite the same, neither was the whisky business.
Back to distilleries
sign up for
our newsletter